Produktbeschreibung
Xhorse VVDI Key Tool Plus Pad features immo programming for thousands of car models around the world, literally covering the great majority of car models locksmith may meet in work, so as to ensure the effectiveness and convenience of their daily work. Its design concept is to unite the functions of your various devices and offers the advantage of ultra-convenience at hand.
Czech warehouse in stock, fastery delivery, no tax
Xhorse XDKP00GL VVDI Key Tool Plus Pad Full Configuration All-in-one Security Solution for Locksmiths
Notice: 1. This Pad is Global Version
2. EU Warehouse In Stock, Faster Delivery No Tax
Key Tool Plus Highlights:
1. One Year Warranty
2. Lifetime Free Update Online
3. Lifetime Free Technical Support
4. Full Configuration Global Version
5. Toyota H Smart Key AKL Without Emulator
6. 4GB RAM + 128GB ROM Large Storage Capacity, 8-Core High Performance Processor
7. 4 Aspects Improving Markedly: Data processing, Instruction completing, Execution operation, Strong stability
8. Much Easier to Complete Various Automotive Programming Anywhere with No Need to Take Your Laptop, Mobile phone.
9. All-in-One Functions:
It provides an all-in-one security solution for locksmiths that combines functions of VVDI2, VVDI MB, Key Tool Max and VVDI PROG with the ability to expand the capabilities as needed.
10. Combines Immo Programming for Luxury Cars Like BMW, BENZ, AUDI, VW, etc. as well as common functions of key programming and car diagnosis in one single platform. These many functions have never been this ready to go.
11. Bind with Xhorse Key Cutting Machine (Condor XC-Mini,Condor XC-Mini plus, Dolphin XP005, Dolphin XP007)
to Get Free BGA Token Everyday, ID48(
XNR-SS303
) and read MB Key password(
XNR-SS240
) online will need token, but both can read xhorse bonus points,copy 48 96 bit (100 points) and mercedes calcuation(200 points).
Free Multi-Language:
English,French,Spanish ,Portuguese,Chinese (Other Language Need to get from your local dealer)
Key Tool Plus Description:
KEY TOOL PLUS provides an all-in-one automotive security solution for locksmiths. The device combines immobilizer matching, remote generation, transponder clone, File Make Key and reading & writing vehicle module data. Besides, it is available to control key cutting machines developed by Xhorse.
The most advanced application processor of VVDI Key Tool Plus, with integrated Bluetooth, FM,WLAN, and GPS modules, is a highly integrated baseband platform incorporating both modem and application processing subsystems to enable the best and most convenient connectivity solution. With this super processor, the enhanced overall quality is achieved for simultaneous voice, data, and audio/ video transmission on the device. Besides, it's available to control Xhorse key cutting machines. Greatly saving cost and facilitating the work process. Furthermore, more advanced functions will be supported for the convenience of locksmiths in the future.
KEY TOOL PLUS provides an all-in-one security solution for locksmiths. Much easier to complete various automotive programming anywhere with no need to take your laptop, mobile phone. It supports IMMO programming for luxury cars like BMW, BENZ, AUDI, and VW. besides, it's available to control the key cutting machines developed by Xhorse. Greatly saving cost and facilitating the work process. Furthermore, more advanced functions will be supported for the convenience of locksmiths in the future.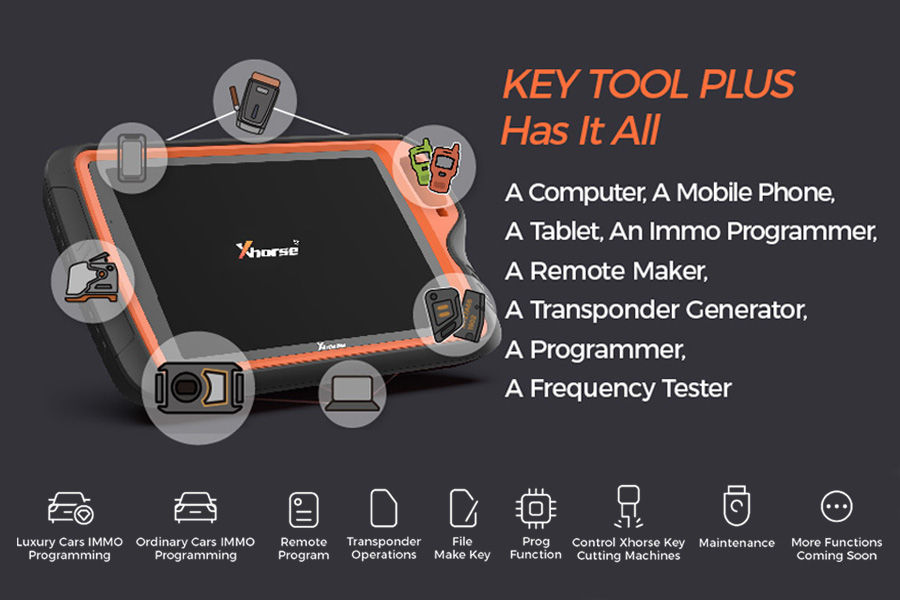 Xhorse Key Tool Plus Basic Functions:
Supports basic functions of a Key Tool, such as remote generating, cloning, transponder detection, and IMMO programming for VW & Audi, BMW, and Mercedes Benz.
Transponder Detection
Transponder Cloning
Transponder Generation
Remote Cloning
Remote Generating
Frequency Detection
Remote Renew
IC/ID Clone
Vehicle Error Light Reset
Key Cutting Machine Control
Built-in OBD matrix switch
Radio frequency simulator
Integrated Key Identification Coil
Mercedes Benz infrared read head
Toyota Smart key programming without simulator (Smart Key Simulator)
Long-distance IMMO collection
Chip pin detection
More functions to be added in future updates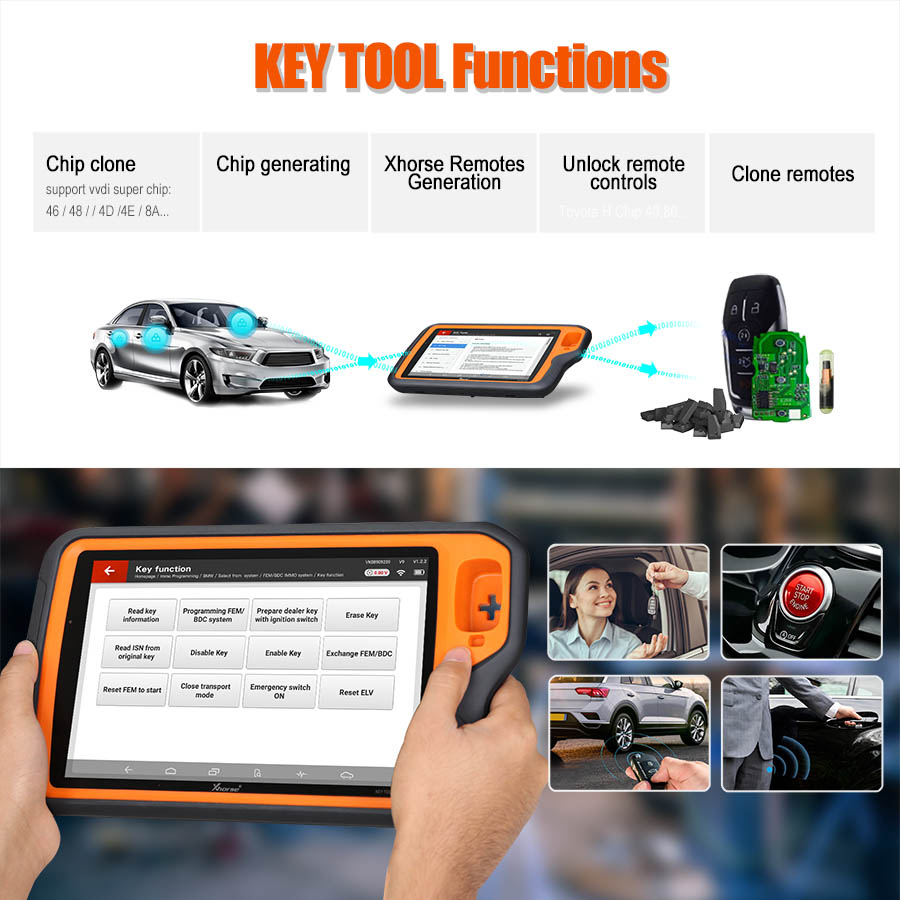 IMMO Key Programming Function:
KeyTool Plus IMMO Function Bullet Point:
Renault 4A Smart Card/4A Folding key
(Kadjar, Koleos etc)
Add Key, All Keys Lost, Generate dealer key via OBD
auto-backup dump, won't kill car
Mercedes Benz FBS3
Add key/all keys lost, fast password calculation, (with Benz non-removal adapter, included in the package)
High success rate
BMW
OBD add key/all keys lost CAS1 CAS2 CAS3+ CAS4 CAS4+ FEM BDC
VAG
IMMO2 IMMO3 IMMO3.5 IMMO4 IMMO5 MQB add key, all keys lost
VAG online
IMMO4 add key/AKL, A6 Q7(J518) All Keys Lost, MQB add key/AKL, 5C add key, fast speed,
no risk won't kill car with vvdi remote
Toyota 8A mechanical key
Add key and All keys lost via OBD. AKL without removing immo box. require 8A AKL adapter
Mitsubishi
Add key, all keys lost, generate dealer key via OBD (Outlander ASX etc)
Porsche
New Porsche 2018 up generate dealer key, OBD programming (key tool plus read dump/generate key/add key via OBD)
Peugeot Citroen DS
Read Pin, Add key and All keys lost via OBD
Ford (-2018)
Pre-2018 all series smart key programming without PIN code
Ford 2019-
2019 up Focus, Escort without backup PFLASH, safe, no risk.
Jeep Chrysler Dodge
2018 up Read PIN and Program key via OBD
Fiat Viaggio Palio
Add key, AKL and generate dealer key via OBD
Buick Chevrolet Cadillac
Read PIN Code (ID46), part of vehicle with 4D/47 PIN Code online inquiry
Hyundai Kia
46, 47, 8A read pin code and program key via OBD
Honda 2019 up AKL
10th Generation Accord, Null, Fit, Inspire AKL via OBD
Volvo (-2016)
None-smart key via OBD, non-smart key by removing CEM, smart key by removing CEM/KVM
Chinese Cars
OBD password calculation for major car brands and models
WE MAKE IT FIT FOR MORE LUXURY CAR BRANDS
As a versatile automotive security device, KEY TOOL PLUS simplifies immo programming for luxury cars like Volkswagen, AUDI, BMW, BENZ, Porsche, Bentley, SEAT, etc.
Users can effortlessly finish the tough work in one single tablet.
Additionally, the support car models won't end here: more cars will be included in the list by Xhorse.
* VW & AUDI IMMO Programming
3rd/ 4th/ 5th generation
MQB
MED17/EDC17
Leading Team with Leading Tech
KEY TOOL PLUS provides users with functions including key programming, key learning, ECU coding/adaption/replacing, diagnostic function, etc. to resolve most problems they met in immo programming for Volkswagen and AUDI cars.
* BMW IMMO Programming
Extremely Cost-effective, Surprisingly Professional
KEY TOOL PLUS can achieve BMW CAS1/ CAS2/ CAS3/ CAS3+/ CAS4/ CAS4+ OBD key learning, FEM/BDC key programming, File Make Key, ECU ISN reading, ECU and CAS synchronization, etc.
Getting work done has never been easier.
* Benz IMMO Prorgamming
User-demand-oriented, Innovation-driven
KEY TOOL PLUS offers users all-rounded and professional security solutions for Mercedes-Benz. The device helps with FBS3 Keyless-go smart key programming, all key lost, adding keys, enabling & disabling keys and EIS/EZS, ELV, ECU, gearbox, ISM replacing.
Other Car Models Supported
For Toyota, For Honda, For Mazda, For Ford, For Cadillac, For LandRover, For Peugeot, For Kia, For Buick, For Chevrolet, For Volvo, For Mitsubishi, For Nissan, For Suzuki,
KEY TOOL PLUS support
s over 20,000 car models worldwide
. We can select the car brands and car models on the immo programming interface. On this smart platform, we can easily find the car models we need
by brand area, brand name, and A-Z word search.
Transponder & Remote Function:
The Most Comprehensive Database of Vehicles Ever.

Transponders
ID46 online calculation
ID48 (96 bit) online calculation
Toyota H(8A) online calculation
Transponder generation and cloning of over 850 car models
Special transponders and special cars and old car models
Remotes
Support remote generation, smart key generation, frequency detection, remote clone for a variety of car models
HCS/fix code clone, non-HCS rolling code clone, fix code editing
PT22XX, LX918, HT6P20, VD5026, AX5326, HT12X fix code editing
COMBINED
Its design concept is to unite the functions of your various devices and offers the advantage of ultra-convenience at hand.
PROG FUNCTION:
Key Tool Plus is designed with Prog function, which can work as a
solder-free programmer
, directly reading and writing common modules and chips for plently pof car models. Xhorse is the first to offer this tergrated solution.
KEY TOOL PLUS supports reading and writing common modules and chips.
It covers "EEPROM and FLASH", "IMMO", "Instrument", "Airbag", and "ECU", etc.
(Note: To complete certain functions, users need to connect KEY TOOL PLUS to the specific adapters and get the required model prompt on the interface. The function is only effective on the advanced edition.)
Supported EEPROM and FLASH
ATMEL
Mitsubishi
Winbond
Catalyst
ST
XICOR
Microchip
SEIKO
Xhorse
MXIC
Toshiba
Support Modules
BMW: CAS3/ CAS3+/ CAS4/ CAS4+/ FEM/ FRM/ BDC
BENZ: EIS/ EIZ
LANDROVER: RFA
PORSCHE: BCM
VOLVO: CEM/ KVM
BMW/ AUDI/ VW: ECU AND MORE
HONDA/ HYUNDAI/ KIA: MB91F dashboard
Support
√ CAN and K protocol switch pin
√ Chip pin detection
√ Toyota smart key programming without simulator
√ Long distance IMMO collection
Built-in
√ OBD matrix switch
√ Radiofrequency simulator
√ Smart key simulator
√ Integrated key identification coil
√ BENZ infrared reading head
WHAT WE CAN COMPLETE BY PROG FUNCTION ON KEY TOOL PLUS?
Support EEPROM reading and writing: support reading & writing most types of transponders in the market.
Support BMW immo module programming covering CAS3, CAS3+, CAS4, CAS4+, BDC, FRM, and FEM.
Support Land Rover RFA module reading and immo programming.
Support Porsche BCM programming.
Support read ECU with CAN on AUDI, BMW, and VOLKSWAGEN.
Support Instrument programming on HONDA, KIA, and HYUNDAI.
IMMO Data Tool (File Make Key)
For some cars, key programming and other settings can't be finished via OBDⅡ. KEY TOOL PLUS gives amazing strength to solve the dilemma by delivering File Make Key function which can be used to add keys for them. This very function features generating transponder via reading related transponder data of the car immo module directly.
Example: Magotan/CC 48 transpnder File Make Key
Audi, Jaguar, Volvo, Ford, BMW, Land Rover, Buick, Kia, Bentley, Peugeot, Cadillac, Toyota, Honda, Porsche, Chevrolet, Nissan, etc.
Maintenance Function
Meet Your Work Demands in Every Way. KEY TOOL PLUS supports maintenance light reset, electric parking brake, TPMS, battery matching, throttle program, injector programming, steering angle programming, bitting decode, gearbox programming, headlight programming, etc.
More maintenance functions will be released soon.
High-tech Made Simple
Keep the Key Cutting Machine in Control
Available to control Xhorse key cutting machines (CONDOR, DOLPHIN, Panda and more). PERFECTLY WORK AS AN OPERATION SCREEN
Outfitted to Outperform
Serve Your Work the Best
4GB RAM + 128GB ROM large storage capacity
8-Core high performance processor
Faster than most ordinary smart devices
4 aspects improving markedly:
Data processing, Instruction completing, Execution operation, Strong stability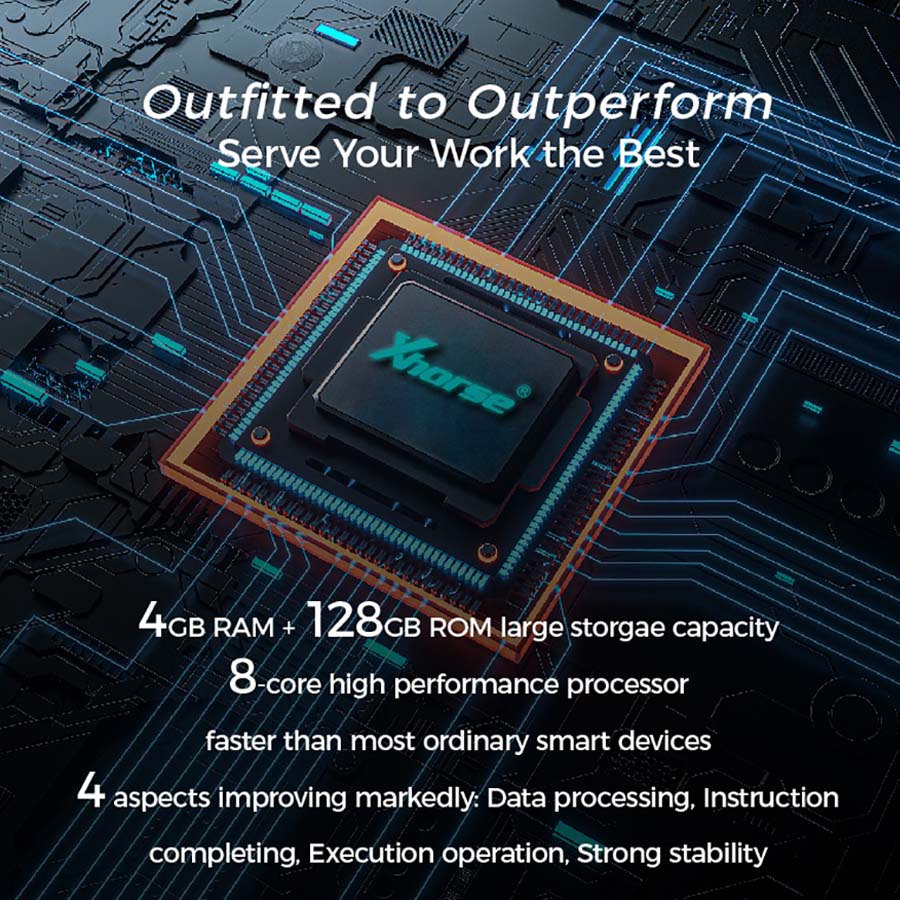 Update Information:
Powered for Performance
10.1" Screen
Super 10.1"
Anti-glare display enables top operation experience.
13MP HD Camera
The 13MP rear camera is designed to fit in multiple scenarios perfectly.
10000mAh Battery
Long battery life and PD3.0 fast charge
Keep you productive throughout your day.
OBD Power Supply
PD3.0 FastCharge
Bluetooth 5.0
WiFi 2.4G/5G
VVDI Key Tool Plus Display:
Light sensor:
detect the brightness in the surrounding environment
Detection coil
(including 125K low, 13.56M Medium, 300-900M high frequency)
Support reading, writing, and cloning common immo transponders
Support reading common ID transponders
Support reading common IC transponders
Support frequency detection of common vehicle remotes
Immo transponder placement hole for vehicle immo transponders
USB charging port:
support standard fast charge adapter and standard Type-C port DC-5V input.
PS2 port for remote programming
DB15 port:
support standard & optional programming adapters with DB15 port
DB25 port for OBD matching
Benz Infrared (IR) port:
support IR read Benz FBS3 & FBS4 smart key and support Benz IR reader
IMPORTANCE
We hereby state that the trade-marks or trade names mentioned in this document are the exclusive property of authorized manufacutures.
Said trade-marks or trade names are nominated only for the purpose of information so that our users can rapidly identify product information.
This document is reserved exclusively for professional locksmiths who use Xhorse products.
Package includes:
1*Pad Main Unit
1*User Manual
1*Power Adapter
1*USB Cable 3.0 Type C
1*OBD DB25 Cable
1*OBD to Kia 10 Pin Connector
1*OBD to Honda 3 Pin Connector
1*Remote Programming Cable
1*Chip Storage Container
1*Prog DB15 Cable
1*Prog EEPROM Adapter
1*MB IR Adapter
1*MB NEC1 Adapter
1*MB NEC2 Adapter
1*MB NEC3 Adapter
1*MB Power Adapter
1*MC9S12 Reflash Cable
1*MCU Cable
---
VVDI Key Tool Plus FAQs:
Q: 1. What are the features of VVDI Key Tool Plus Tablet?
A: KEY TOOL PLUS Tablet is a professional locksmith tool that integrates the main functions of remote control and chip, anti-theft matching, programming, accessory replacement, maintenance reset, etc., and also reserves future expansion capabilities. One device can solve all the needs of daily work.
Q2. How about the original VVDI series device after the KEY TOOL PLUS tablet comes out?
A: The KEY TOOL PLUS Tablet is used to fill the gaps in the KEY TOOL series of product lines, and provides a more convenient tool for the daily work of locksmiths. We will not stop the production and sales of VVDI2, VVDI MB, VVDI PROG and other products, old customers can continue to use, we will continue to provide development and upgrade, will not stop service. Please do not worry.
Q3. Your KEY TOOL PLUS tablet is an update version of KEYTOOL MAX, isn't it?
A: NO, not just update version of VVDI Key Tool Max. KEY TOOL PLUS Tablet uses higher configuration hardware and supports more protocols and interfaces. Of course, KEY TOOL Super Tablet also covers all the functions of MAX.
Q4. How do you plan for VVDI2, VVDI MB, and VVDI BMW tools in the future?
A: In the future, VVDI series products will continue to be upgraded, and will develop more towards specialized functions such as programming, coding codes, parameter refreshing, etc., and they are professional equipment for locksmiths. KEY TOOL PLUS Tablet focuses on solving daily work needs, so each has its own advantages.
Q5. How about the KEY TOOL PLUS tablet configuration?
A: We have fully listened to the suggestions of the locksmith masters. Considering the sustainability of the product, we have adopted high-performance hardware configuration on the VVDI KEY TOOL tablet, such as 8-core CPU, 4G memory, 128G storage, 10.4 inch HD The screen and other configurations higher than the industry level, while integrating support for new technologies such as DOIP and CAN-FD, reserve sufficient space for future function expansion.
Q6. Will VVDI KEY TOOL PLUS Tablet cost money in the future?
A: We have always insisted on free upgrades, and the upgrade of the main functions of the tablet will also be free. However, for functions with greater breakthroughs, such as the support of Mercedes-Benz FBS4, we will charge a certain upgrade fee because of the large investment in research and development.
Q7. How about VVDI KEY TOOL PLUS IMMO Support List?
A: The VVDI MINI Key Tool Plus Tablet supports more than 90% of the common models on the market. At the same time, we will continue to improve and add new models, and these are free upgrades.

Contact Us
Email: Sales@CarOBD.de
Skype:
CarOBD.de
Facebook:
https://www.facebook.com/carobd.de/
Whatsapp: +86 19947637411
Trustpilot:https://www.trustpilot.com/review/www.carobd.de
Scan the QRcode,feel free to contact us on your smartphone.
Shipping Warranty:

1) EU Warehouse Shipping: 3-5 working days with No Tax. We have stock in our Czech warehouse for most items. All Items titled "EU Ship" are ship from our Czech warehouse.

2) Yodel Virtual warehouse Shipping: 6-8 days with No Tax for EU customers.

3) Yanwen Express: 7-10 working days. No Tax for European Countries.The tax was pre-paid by us, when package reached, there's no tax no extra fee for customers.

(Due to high custom tax in European Countries,Like Germany, Greece,Romania,Sweden,France,etc, we will use Yanwen express as first option, if you need faster DHL shipment,please contact us ,thank you)

4) DHL Shipping: 5-10 working days. For the items have no stock in UK warehouse, we will ship it by DHL. We will declare a lower price on the invoice to help your clearance.

5) 4PX Postal Service: 8-12 working days. For the Price below €100, we will ship it to you buy Airmail.