Produktbeschreibung
VNCI (Vehicle Network Communication Interface is a device that works between diagnostic software and vehicle. It is compatible with J2534 Passthru and ELM327. 
Can support models to year 2022
VNCI J2534 Nano Compatible with J2534 Passthru & ELM327 Diagnose J1979 Compatible Vehicles Switch Mode Automatically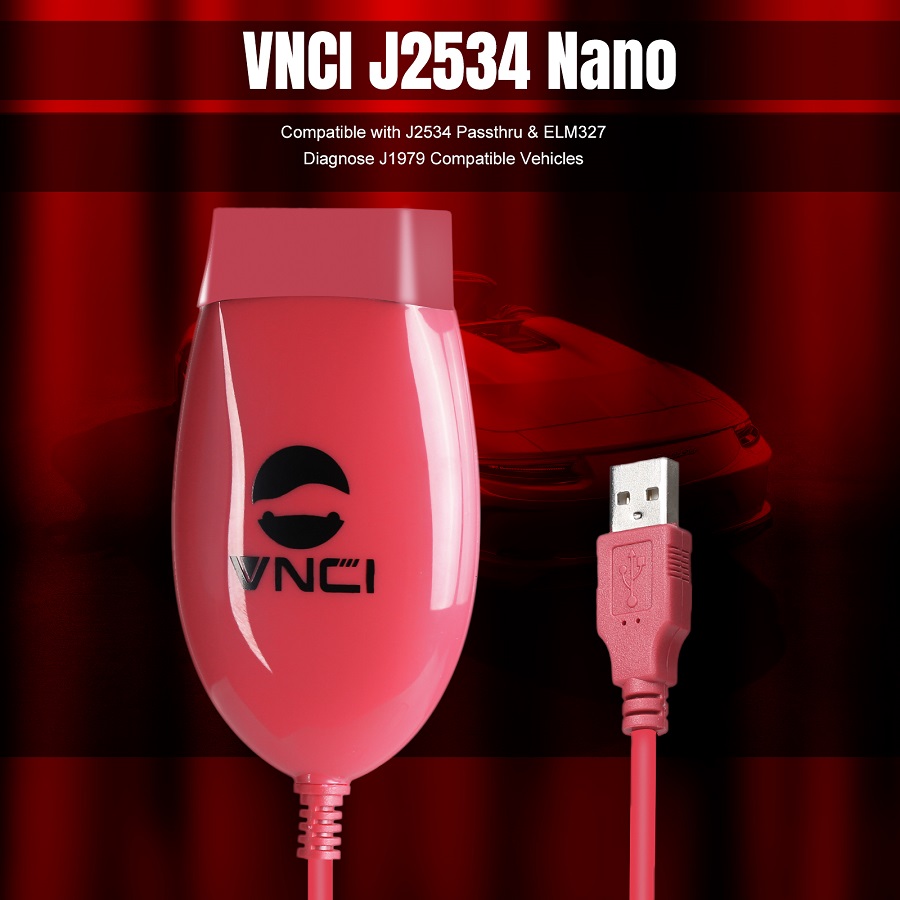 VNCI J2534 Nano Highlights:
1. Support J2534 and ELM327 mode in one device. Switch mode automatically.
2. More speedup. Faster communication and reprogramming.
3. More stability. Never let you down while reprogramming.
4. Portable and convenient. Small package and easy to carry.
VNCI J2534 Nano Introduction:
VNCI (Vehicle Network Communication Interface is a device that works between diagnostic software and vehicle. It is compatible with J2534 Passthru and ELM327.

VNCI J2534 Functions:
1. Support most all of J2534 compatible software(HDS, TIS, ODIS, JLR, PCMFLash...).
2. Support most all of ELM327 software(ELMConfig, Forscan, ScanMaster...).
3. Support ECU reprogramming in J2534 mode with programming voltage.
4. Supply free software for diagnosing J1979 compatible vehicles.
odis:
English, Japanese, Portuguese, Romanian, Korean, Dutch, Polish, Turkish, Spanish, French, Italian, Croatian, Danish, German, Swedish, Finnish, Slovenian, Czech ,
Russia, Greece, Chinese
Toyota:
English, French, Spanish, Japanese, German, Italian, Russian, Turkish, Chinese
honda:
English, German, Czech, Dutch, Finnish, French, Greek, Hungarian, Italian, Norwegian, Polish, Portuguese, Russian, Slovenian, Spanish, Swedish, Turkish, Japanese ,Chinese
jlr sdd:
German, English, Spanish, French, Italian, Dutch, Portuguese, Russian, Japanese, Chinese, Korean
Forscan:
English, Russian, Polish, Italian, German, Hungarian, Turkish, French, Latvian, Bosnian, Finnish, Romanian, Portuguese, Traditional Chinese, Simplified Chinese, Czech, Lithuanian, Slovak , Ukrainian
scanmaster elm 327:
English, Czech, German, Spanish, French, Hungarian, Italian, Polish, Serbian, Turkish, Danish, Croatian
pcmflash:
English, Russian
VNCI J2534 Nano protocol configuration:
1. ISO15765 (Standard/Extended frame).
2. ISO9141.
3. ISO14230.
4. J1850 PWM (Support IFR and 2X speed mode).
5. J1850 VPW (Support 4X speed mode).
6. Programming voltage.
7. Short to ground.
8. ELM327 with command set version 1.5a
VNCI J2534 Nano hardware configuration:
1. ISO11898-2 high speed CAN (OBDII PIN 6 and PIN 14. Speed up to 1000Kbps).
2. ISO9141 and ISO14230 K line (OBDII PIN 7 and PIN 15).
3. J1850 PWM (OBDII PIN 2 and PIN 10).
4. J1850 VPW (OBDII PIN 2).
5. Programming voltage (OBDII PIN 12 or PIN 13. Programming voltage up to 20V).
6. Short to ground (OBDII PIN 9. Short to OBDII PIN5).
7. Dimension(L*W*H): 95mm*55mm*23mm
8. Environmental:-20℃-45℃(-4℉-113℉)
9. Vehicle voltage requirements: 8-18V DC
10. Vehicle connection: Molded DLC3(OBDII-16)
11. Host connection: USB 2.0

Package Includes:

1pc x VNCI J2534 Nano

Contact Us
Email: Sales@CarOBD.de
Skype:
CarOBD.de
Facebook:
https://www.facebook.com/carobd.de/
Whatsapp: +86 19947637411
Trustpilot:https://www.trustpilot.com/review/www.carobd.de
Scan the QRcode,feel free to contact us on your smartphone.
Shipping Warranty:

1) EU Warehouse Shipping: 3-5 working days with No Tax. We have stock in our Czech warehouse for most items. All Items titled "EU Ship" are ship from our Czech warehouse.

2) Yodel Virtual warehouse Shipping: 6-8 days with No Tax for EU customers.

3) Yanwen Express: 7-10 working days. No Tax for European Countries.The tax was pre-paid by us, when package reached, there's no tax no extra fee for customers.

(Due to high custom tax in European Countries,Like Germany, Greece,Romania,Sweden,France,etc, we will use Yanwen express as first option, if you need faster DHL shipment,please contact us ,thank you)

4) DHL Shipping: 5-10 working days. For the items have no stock in UK warehouse, we will ship it by DHL. We will declare a lower price on the invoice to help your clearance.

5) 4PX Postal Service: 8-12 working days. For the Price below €100, we will ship it to you buy Airmail.