Produktbeschreibung
K518 s key programmer is the latest version of Lonsdor, with wider vehicle coverage in key programming, it is customized as the first masterpiece to the overseas market from Lonsdor. With months of preparation and rigorous testing, from the software design to the user experience, it is an epitomize of Lonsdor years of industry experience. It is tailored and perfect for vehicle locksmith, to help making their work easier, faster and more powerful!
LONSDOR K518S Auto Key Programmer Basic Version
Lonsdor K518S Key Programmer Highlights:

Language available: English

1. 3800mAh polymer battery
2. The best car diagnostic tool based on Android
3. Support external memory expansion, better within 32G
4. Built-in professional, powerful operation assistant system
5. WIFI networking ensures software upgrading more convenient.
6. inches high brightness, high definition color IPS capacitive screen
7. Key Programming+Odometer Adjustment Two in one Car DiagnosticTool
8. Diagnostic speed greatly accelerated, work efficiency improved, better time saving.
9. With USB-B2.0 standard connector, OBD-II test cable integrated with the diagnostic connector function of the adapter.
10. No need to plug memory card, or connect the computer with data cable, more flexible in online upgrading, updating and activating.

What are the advantages of Lonsdor K518S Key Programmer ?
1. Immobilization Key Programming
2. Odometer adjustment
3. Built-in Volkswagen 4th & 5th adapter
4. Built-in Chip & remote detection module.
5. Free BMW FEM key programming
6. No Need Token for all cars
7. Lonsdor K518S can program Toyota/Lexus smart key all key lost via OBD by working together with extra LKE Smart Key Emulator 5 in 1(optional)




Lonsdor Menus are divided into two parts:

free menus

(black color in list)
and
subscribed menus
(red color in list),
you can click
Here
to check the details
.
1. Free menus are free use for lifetime.
2. Subscribed menus can be used for free for 1 year. You need to pay for them after the trial period
Update subscription cost declines year by year
-
First Year Update Subscription for Lonsdor K518S Full Functions
---526EUR
-
Second Year Update Subscription for Lonsdor K518S Full Functions
---381EUR
-
Third Year Update Subscription for Lonsdor K518S Full Functions
---254EUR
Or if you want to update for one time,you can choose Lifetime update subscription. No need pay more in the future.
-
Lifetime Year Update Subscription for Lonsdor K518S Full Functions
---1695EUR
Notice:
Both Lonsdor K518S and Lonsdor K518ISE share the same Immo functions and vehicle coverage.
Check here know difference between
Lonsdor K518ISE
and K518S
Similarities
1, Both of K518ISE and K518S include basic software and charge software.
2, Basic software will be free for life, and charge software need to pay subscription fee after trial period.
3, Both of K518ISE and K518S have one year trial period for charge software.
Difference
1, Retail price for K518S is USD$699, for K518ISE is USD$1299.
2, Subscription cost for K518S is USD$600, for K518ISE is USD$480.
3, Subscription for K518S is "Rent" concept, customer need to pay the charge software every year.
Subscription for K518ISE is "Buy" concept, the software covered will be free for life and no need to pay again.
Lonsdor K518S Key programmer Special features:
Volvo (S40, S60, S80, XC60, XC90, C30, C70, V40, V60, V70) key programming.
Toyota/Lexus: smart key all key lost - via OBD ( without dismantle)
BMW CAS3/CAS3+/CAS3++: direct OBD programming
BMW CAS4/CAS4+: dismantle & read data programming
16 -New Maserati: smart key programming
16 -New Ford: smart key programming
Hyundai / Kia 46/47/8A smart key: PIN code reading via OBD, all key lost included.
Renault ( Megane, Koleos, Scenic) without PIN code key programming
VAG group 4th & 5th immobilizer system
Ferrari (458, F12, F149): direct OBD programming
Peugeot /Citroen: two ways to read PIN code & programming, all keys lost included.
Cars coverage list for immobilization:

Europe:
Audi, BMW, Benz, VW, Volvo, Citroen, Ferrari, Maserati, Fiat, Lamborghini, Jaguar, MG,
Land Rover, Bentley, Lancia, Opel, Peugeot, Porsche, DS, Renault, Alfa Romeo, Smart,
Borgward
America:
Cadillac, Chevrolet, Dodge, GMC, Buick, Hummer, Ford, JEEP, Lincoln, Mercury
Asia:
Honda, Hyundai, Isuzu, KIA, Lexus, Mazda, Mitsubishi, Nissan, Ssangyong, Subaru, Suzuki,
Toyota, Shigaoka Queen
China:
Iveco, Trumpchi, BYD, Geely, Chery, Great Wall, Young Lotus (Basically all Chinese car
models are included)
Odometer Adjustment Car List:
VW, Porsche, Ford, Jaguar, Land Rover, Mazda, Audi, Renault, Hummer, Hyundai, Kia...
Note: more high-end cars will be updated very soon.
Note:
K518S is still under rapid upgrading, more functions and be released soon, please refer to our website www.lonsdor.com foalso you can"One key update" for the latest version by yourse


K518S key programmer Function Description:

Please pay attention to below function description before using the device.
1. Immobilization: immobilizer system diagnosis
2.Odometer adjustment: mileage diagnosis and correction
3.Hardware testing: test if the hardware can function well
4.Adapter: after dismantling, diagnose certain car models
5.Setting: set up basic device information
6.Update firmware: adapter firmware upgrade & update (connect KPROG adapter
7.with OBD test cable and connect K518ISE with 12V power supply)
8.One key upgrade: click to update to the latest system data
9.Shutdown - turn off the device
Lonsdor K518S BMW update:
BMW CAS4/CAS4+ KEY PROGRAM supports:
Programming by OBD for CAS4(5M48H, 1N35H);
Direct and fast PRE-PROCESS for CAS4(5M48H, 1N35H);
Repair RKE and PKE failure problems via OBD ;
Replace CAS4 via OBD;
Reset and modify mileage;
Repair vehicle starting failure after preprocessing CAS4 or adding new keys.
BMW BDC2 KEY PROGRAM supports:
G chassis cars
Enable/disable key
* BMW\Select from type\CAS4/CAS4+\Method 2(OBD)
How to Registration & Activation Lonsdor K518S
Car Odometer Adjustment Key Programming Diagnostic Tool
1 Network setting
First time to start the device, please set the network (connect available WIFI).
2 System update
After networking, the system will automatically updated to the latest version. There are 3 ways of system update:
(1) One key update: quickly update the new added or modified functions.
(2) APK update: this is used when the APK is updated.
(3) Force to update: this is used when the device is faulty or to retrieve data.
3 Registration & activation
After system updating, you need go to registration∾tivation. For new user, click Registration, input user name(email), name(min 2 char), password(min 6 char), email verification code and click YES to complete registration(if interrupted after registration is done, you will go to the System update--Registered user to proceed). Then go to Activation confirmation to continue.
After confirming activation, it will enter into Setup password interface, please set 6-digit numbers as your startup password. Then after information verification by Lonsdor (5-30 minutes, you can check the progress by clicking "Refresh" ), you will required to re-enter the
password to verify, when you get the notification that verification successful, the whole
process before using the device is complete.
Note
1. User name must be available email address, so that you can receive the verification code
from Lonsdor by email.
2. Please pay attention to the difference between the registration password (min 6 char) and
the startup password(6-digit), the former will generally only used when registration, so
please commit the 6-digit startup password into memory, as this will be required every time
when you start the device.
3. The account will be bound to the corresponding device for life, other accounts can not log
in your device and your account can not log in an registered or activated device either.
4. An account can be used to bind multiple new devices.
K518S Key Programmer Technical Parameter:



Main Unit Appearance:
1. Trademark: Lonsdor
2. Three-color indicator in turn will be: red - external power supply; blue - system power;
yellow - communication status
3. Capacitive touch screen: display and touch operation function.
4. Switch: press and hold for 3s to start. When in start state, press and hold for 3s to restart or shutdown, for 10s to force to restart.
5. Volume: adjust volume size
6. Key frequency & chip recognition system: place the key on the surface to detect
frequency, push the slot shell to the right and put the key inside to detect chip
7. Setting: enter to set
8. Home: home page interface
9. Return: back to previous step
10. Built-in antenna: antenna inside
11. Model: K518s
Screen shot: press power button and volume down button together
Main

interface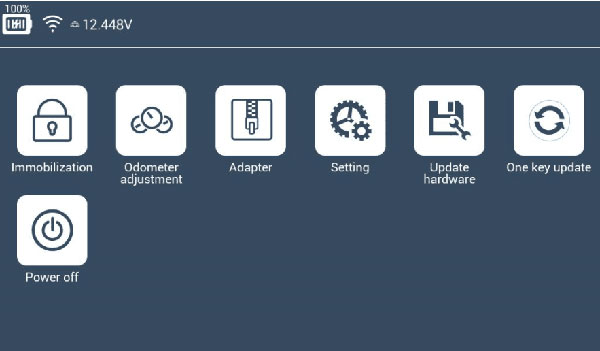 Immobilization interface: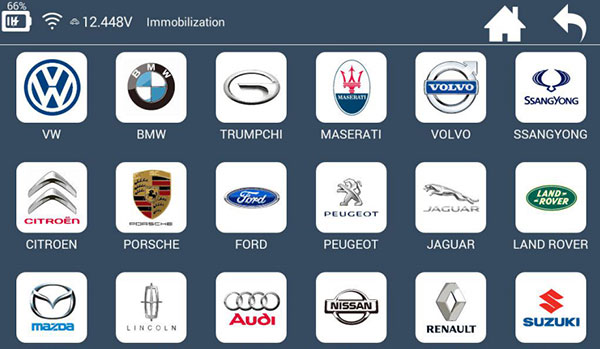 Odometer adjustment

interface: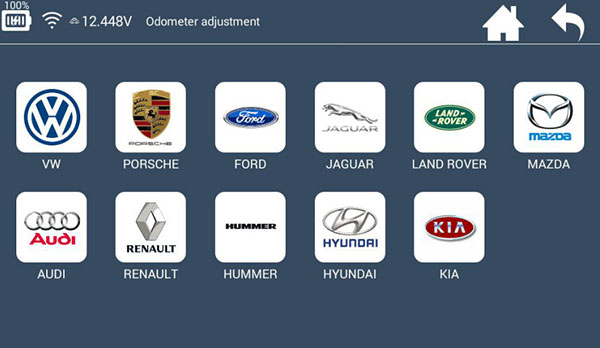 Setting interface: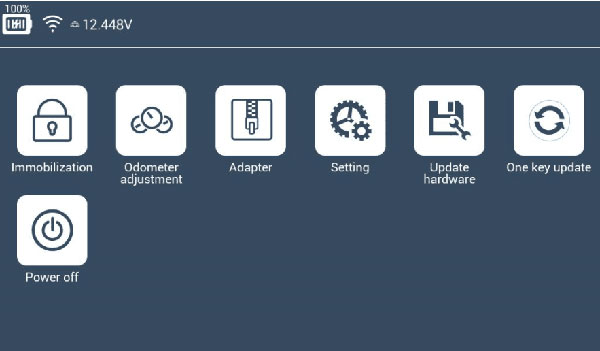 Package includes:
1 x Portable Bag(big)
1 x Main Host
1 x Power Adaptor
1 x USB Cable
1 x Packing Bundle
1 x OBD Test Cable
3 x Extra Connector
1 x Londor K518 S User Manual
1 x Portable Bag(small)
1 x KPROG Adapter
1 x RN-01 Board
1 x E-01 Board
1 x FS-01 Board
1 x 20P Cable
5 x Backup Pin
1 x Certificate

Contact Us
Email: Sales@CarOBD.de
Skype:
CarOBD.de
Facebook:
https://www.facebook.com/carobd.de/
Whatsapp: +86 19947637411
Trustpilot:https://www.trustpilot.com/review/www.carobd.de
Scan the QRcode,feel free to contact us on your smartphone.
Shipping Warranty:

1) EU Warehouse Shipping: 3-5 working days with No Tax. We have stock in our Czech warehouse for most items. All Items titled "EU Ship" are ship from our Czech warehouse.

2) Yodel Virtual warehouse Shipping: 6-8 days with No Tax for EU customers.

3) Yanwen Express: 7-10 working days. No Tax for European Countries.The tax was pre-paid by us, when package reached, there's no tax no extra fee for customers.

(Due to high custom tax in European Countries,Like Germany, Greece,Romania,Sweden,France,etc, we will use Yanwen express as first option, if you need faster DHL shipment,please contact us ,thank you)

4) DHL Shipping: 5-10 working days. For the items have no stock in UK warehouse, we will ship it by DHL. We will declare a lower price on the invoice to help your clearance.

5) 4PX Postal Service: 8-12 working days. For the Price below €100, we will ship it to you buy Airmail.