GODIAG V600 is a BMW professional diagnostic & programming / coding tool,
it will replace GT1, OPS, OPPS, ICOM, ICOM A2, ICOM A3, ICOM NEXT.
V600-BM CAN-FD J2534 can access to all systems of newest BMW car models to quickly read / clear fault codes, read dynamic data stream, active test, activation, components replacement, ECU replacement and upgrading, personalized settings, ECU programming , retrofitting and upgrading car configuration, SCN Coding, transmission initialization, enable the hidden features etc.
GODIAG V600-BM Features
1. Mit einer Größe von ca. 108 x 52 x 27 mm ist das Taschengerät mehr tragbar.
2. Neues Industriedesign. Das Gehäuse besteht aus starken und schmutzabweisenden Materialien und ist ideal für Autowerkstätten.
3. Unterstützt WiFi-Verbindung, Hochgeschwindigkeitsübertragung, Fernübertragung, stabiles Signal und starke Entstörung; WiFi kann gleichzeitig als STA- oder AP Modus eingestellt werden, sodass die Benutzer in einer komfortablen Innenumgebung arbeiten können.
4. Unterstützt eine kabelgebundene Ethernet-Verbindung und kann zwischen zwei Modi umschalten - WAN oder LAN.
5. Unterstützt die Diagnose von BMW mit Protokollen, einschließlich: ISO14230, ISO15765, IFH, DOIP usw.
6. Umfasst eine große Auswahl an Fahrzeugmodellen ab und bietet leistungsfähige und zuverlässige Diagnosefunktionen.
7. Kommunikationsdaten werden verschlüsselt, um die Sicherheit von Geräten und Fahrzeugen zu
GODIAG V600 Update Schedule:
1. Plan to add authorization of Benz, Land Rover, Jaguar, CAN-FD, Toyota, VW, Audi (ODIS software)
2. Dedicated Android APP is under development , it will support both Ethernet and WiFi
communication.
Comes with ISTA-D, ISTA-P, Tool32, For BMW Coding, ISPI, INPA, E-SYS, WINKFP, NCS-Expert Tool, and you can directly run them.
Compatible Protocol: J2534, CAN-FD, DOIP, D-CAN, ISO14230, ISO15765, IFH, K-line ******
Support OEM professional diagnostic function of all For BMW series:
1 series: 1'_E81/E81/E87/E88,1'_F20/F21
2 series: 2'_F22/F23,2'_F45/F46,2'_F87
3 series: 3'_E46,3'_E90/E91/E92/E93, 3'_F30/F31/F34/F35,3'_F80
4 series: 4'_F32/F33/F36,4'_F82/F83
5 series: 5'_E39,5'_E60/E61,5'_GT(F07), 5'_F10/F11/F18
6 series: 6'_E63/E64,6'_F06/F12/F13
7 series: 7'_E38,7'_E65/E66,7'_F01/F02/F03/F04, 7'_G11/G12
X series: X1_E84,X1_F48/F49,X3_E83,X5_E53,X5_70,X6_E71,
X6_E72,X3_F25,X5_F15/F85,X6_F16/F86,X4_F26
Z series: Z4_E85/E86,Z4_E89
I series: I'_I01/I02
MINI: MINI_R50/R52/R53, MINI_R55/R56/R57/R58/R59/R60, MINI_F55/F56
GODIAG V600 stand-out features:
1. Contained with dedicated For BMW software (same as ICOM, ICOM A2 / A3 / NEXT etc, no need to install any driver.)
1) ISTA-D:
used to read / erase fault codes, read the data flow, maintenance guidance, circuit diagram, wiring diagram and directly upgrade & program new models. It will activate the ignition switch without keys during diagnosis.
2). ISTA-P:
an off-line programming and coding software system, including the latest database for programming E, F, G, K, I series models
3). Engineer programming & coding software for F series vehicles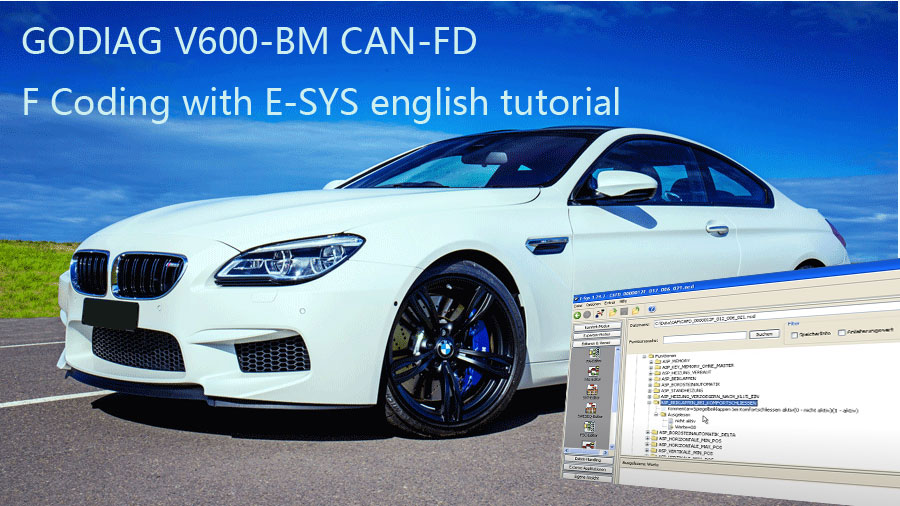 4). WINKFP:
engineer programming software for E series vehicles.
5). NCS-Expert Tool:
engineer programming software for E series vehicles.
6). INPA:
engineering diagnostic software for E series vehicles.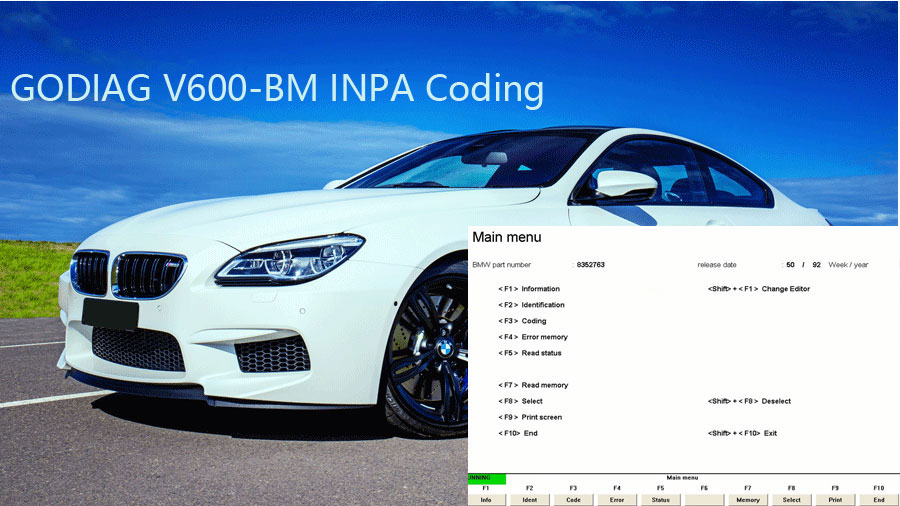 7). Tool32:
engineer command execution software for E series vehicles.
8). For BMW Coding Tool:
WINKFP NCS auxiliary software for importing engineer data for E series vehicles.
2. Provide a variety of communication modes:
USB 2.0
DoIP indicator
Ethernet 10/100Mbps
WIFI/BT 802.11 indicator 150Mbps
ETH indicator
System Indicator
3. Specifications
Suitable power: 7-32 V
About 300 mA when the power is 12V
High-speed processor: CPU 580 MHz MIPS, 32MB FLASH,128MByte RA, Built-in 32G TF card(optional)
4. Replace any of these For BMW diagnostic tools: For BMW ICOM, ICOM A2 / A3 / Next etc.
5. The Button Function:
F1-Press it for more than 3s to reset factory setting
F2-Press it to restart system
V600-BM Parameters:
Shell
The shell is made of Polyamide.
Size:108 x 52 x 27 mm
Power Supply
7-32 V
Current Consumption
About 300 mA when the power is 12V
CPU
580 MHz MIPS, 32MBFLASH, 128MByte RA, built-in 32G TF card(optional)
Operating System
Linux
WiFi
150Mbps Wi-Fi 1T1R 802.11bgn
Bluetooth
Bluetooth5.0/5.1
Interface
USB 2.0
Ethernet 10/100Mbps
Indicator
DoIP indicator
WIFI/BT indicator
ETH indicator
System indicator
Buzzer
Sound Pressure Level: MIN.80 dB
Temperature
Working:-20 ... +55°C, Storage:-20 ... +85°C
Protection Rating
Dust prevention and water resistance conform to IP52
Conform to
Electromagnetic Compatibility
Noise emissions:EN 55011,EN 55022
Anti-interference:EN 61000-6-2, EN 61000-6-4
Package includes:
1pc x GODIAG V600-BM CAN-FD J2534
How to register Godiag V600?
1. Please download Godiag V600 Software
here
.
2. There is a password paper inside the package. After you install the software, please run it and register the device.
3. Active the device with the password.
4. If you computer already has ISTA-D or ISTA-P software, you can directly use and no need to install any driver. If you do not have the software, you can also
BMW Software
buy from us.