Produktbeschreibung
X100Pro2 includes functions of key programming and dashboard recovery. This equipment is anti-seismic and durable, which can meet the actual needs of different users such as automobile repair factory and workshop.
Free Multi-Language Available: Deutsche,English,Spanish,Francais,Portuguese, Polish,Italian,Russian
XTOOL X100 Pro2 OBD2 Auto Key Programmer with EEPROM Adapter
X-100 Pro2 Auto Key Programmer is a hand-held device for programming keys in immobilizer units on vehicles.
This scan tool has a simple and robust design, to make your vehicle service experience much easier!
Xtool X100 Pro 2 Hightlights:
1. Upgrade Version of Xtool X100 Pro

2. Lifetime Free Online Upgrade
3. Multi-Language Available:
English,Spanish,Francais,Portuguese,
Deutsche
,Polish,Italian,Russian
4. Warranty:
1 year quality warranty and Free Technical Support
5. Easy to operate by the guided menu programming

6. You can click Here to check the car list
Notice:
1. Xtool X100 Pro is a key programmer, please don't count on too much on the mileage correction functions.
2. Dealer Code XT0240
X100 pro2 is a professional key programmers scanners works for

1. New keys programming
2. Reads keys from immobilizer's memory
3. New immobilizerprogramming
4. New ECUprogramming
5. New mechanical key number programming
6. Vehicle Identification Number programming
7. Reset ECM & reset immobilizer
9. New remote controller programming
10. X100 Pro 2 is with Mileage Correctio function, but can not support all car models in all year
[OBD2 Engine Diagnosis System]
:
1.OBD2 Diagnostic:
Can read Engineer systems error code via the OBD2
2.EEPROM :
Works for some old car models not suit the obd2 can work with the eeprom contact with ,also can work for some chips
3.ECU Reset :
When your ECU get any Error code keeps shows problems this x100 pro can make Reset for the ECU
4.Odometer Adjusement
[Key Programmer with EEPROM(Basic 2000-2014 year)]
: New keysprogramming,Reads keys from immobilizer's memory,New immobilizer programming,New ECUprogramming,New mechanical key number programming,Vehicle Identification Number programming,Reset ECM & reset immobilizer ,Easy to operate by the guided menu programming,New remote controller programming,With full and strong database for the most important vehicle makes
[Free Update Lfitetime + Quick Technical Support]:
Software Half year/Update + 1 year Warranty + Lifetime free update.Upgradeable via web-based download
Vehicle Coverage:
Region
Function
Immobilizer
Asia
Toyota; Honda; Acura; Mazda; Lexus; Mazda; Nissan; Infiniti; Mitsubishi; Subaru; Suzuki; KIA; Hyundai; SSANGYONG; QNLUTUS; Mitsuoka
Europe
Audi; VW; Skoda; Seat; Porsche; Opel; Citroen; Peugeot; Jaguar; Land Rover; Renault; Benz; Ferrari; Fiat; Maserati; MG; Smart; DS
America
Lincoln; GM; Chrysler; Ford
China
Changan; Changfeng;Changhe; Chery; Brilliance; BYD; Huapu; JAC; Lifan; GreatWall; HNMAZDA; Lufeng; Roewe; SQYL; ZZNISSAN; Luxgen; Geely; Hongqi; Hawtai; Besturn; Baic; Baojun; Dffengshen; Dfliuzhou; Betpurn
XTOOL X100 Pro2 Screen Display:




Warning:
Doesn't support Mileage function for Japanese cars like toyota, honda etc. If you mind,please don't buy this product. Functions are NOT Universally Compatible. Supported Car Brands are NOT Compatible with All Models.
How to make Update
Step 1: Visit Xtool official websitehttp://www.xtooltech.com
Step 2: Select product you desired, download and Install the upgrade tool installation package
Step 3: Extract the installation package into an upgrade tool
Step 4:
Connect xtool device to Windows computer with Type-c cable; (If the USB device cannot be recognized.
Use this method: 1) insert the TYPE-C connector halfway to make the screen light up. 2) then insert all of the TYPE-C connector to identify the USB device)
Step 5:
Open the upgrade tool,input the Product SN and Password,then click login;
(Certificate of conformity with S / N and password.
Note: The serial number begins with the three letters PRO)
Step 6: Select the required language upgrade;
Step 7: Wait until the upgrade completed.
Note: how pro2 gets back to normal.
Step 1: Connect PRO2 to a Windows PC, find the memory card, and format it.
Step 2: Log in the upgrade tool and click upgrade



XTOOL X100 Pro2 Display: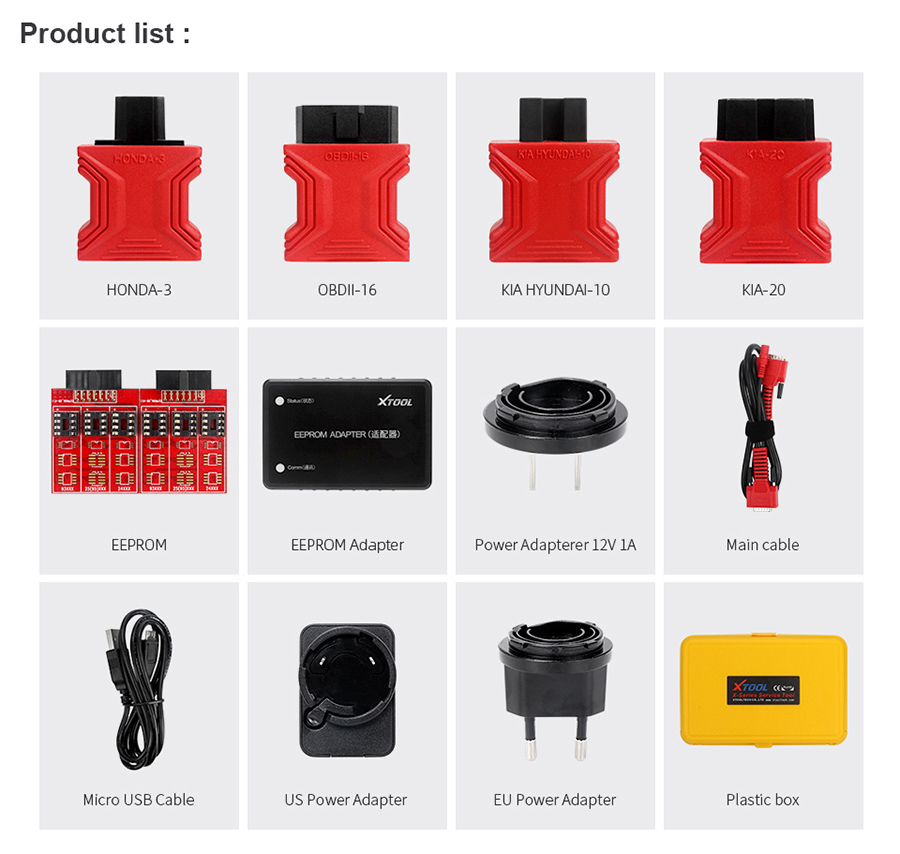 Package includes:
1PC x HONDA-3
1PC x OBDII-16
1PC x KIA HYUNDAI-10
1PC x KIA-20
1PC x EEPROM
1PC x EEPROM Adapter
1PC x Power Adapter 12V 1A
1PC x Main Cable
1PC x Micro USB Cable
1PC x US Power Adapter
1PC x EU Power Adapter
1PC x Plastic Box

Contact Us
Email: Sales@CarOBD.de
Skype:
CarOBD.de
Facebook:
https://www.facebook.com/carobd.de/
Whatsapp: +86 19947637411
Trustpilot:https://www.trustpilot.com/review/www.carobd.de
Scan the QRcode,feel free to contact us on your smartphone.

Shipping Warranty:

1) EU Warehouse Shipping: 3-5 working days with No Tax. We have stock in our Czech warehouse for most items. All Items titled "EU Ship" are ship from our Czech warehouse.

2) Yodel Virtual warehouse Shipping: 6-8 days with No Tax for EU customers.

3) Yanwen Express: 7-10 working days. No Tax for European Countries.The tax was pre-paid by us, when package reached, there's no tax no extra fee for customers.

(Due to high custom tax in European Countries,Like Germany, Greece,Romania,Sweden,France,etc, we will use Yanwen express as first option, if you need faster DHL shipment,please contact us ,thank you)

4) DHL Shipping: 5-10 working days. For the items have no stock in EU warehouse, we will ship it by DHL. We will declare a lower price on the invoice to help your clearance.

5) 4PX Postal Service: 8-12 working days. For the products mentioned"Standard Flat Rate Shipping Service" we will send via postal service