Produktbeschreibung
The Xhorse VVDI Mini PROG is a professional self-contained programming and re-flashing device that can read and write eprom data without soldering. This programmer can be used for "Re-Flash" type Key Programing, memory device cloning, and module programming. This programmer does not require a PC for use like other eprom programmers on the market. This programmer can be controlled by any iOS or Android-based smartphone or tablet by means of Wifi or Bluetooth.
Xhorse VVDI Mini Prog Multi-functional Solder-Free Programming Device
Highlights:
1. Easy to Use for Green Hands
2. No Need to Dismantle or Cut the Wire with No Risk of Damaging PCB
3. Portable and Easy to Use:
Professional smart programming device, provides portable chip programming solution.
4. Store Data Without Relying on a PC.
For most 8-pin ICs, you can use a pressure contact to read and write data.
5. No need to Remove Chip/ Solder/ Cut the Wire/ Lift the Pin:
Various special models will also be equipped with corresponding adapter, such as BMW CAS adapter
6. No Need Soldering:
Porsche BCM adapter without soldering, Land Rover adapter, etc. . . . . (These adapter boards are also expected to work with VVDI PROG,VVDI Key Tool Plus).
7. Fast Speed Working:
The smart screen on the top of MINI PROG clearly shows the real-time working status.
8. Connected to Your Smartphone
to Intelligently Complete the Chip Programming Works via Bluetooth and WiFi.
10. Built-in Battery and Wireless Data Transmission
, no need for external power supply and U disk to transfer data.


Xhorse VVDI Mini Prog Description:
Xhorse MINI PROG, a professional smart programming device, provides users the most portable chip programming solution. The 3 different pin headers can be easily switched to read and write different chips and to satisfy different demands. The smart screen on the top of MINI PROG clearly shows the real-time working status. MINI PROG can be connected to your smartphone to intelligently complete the chip programming works via Bluetooth and WiFi.
This new MINI PROG is the result of intelligence and speed to provide users easier programming solutions.
You can do the programming work anywhere, your house, car garage, workshop, office, outdoor, coffee shop, car etc. Just take it any where, and make it any time!
3 Detect Connectors(Test Heads) Suitable for various Transponders.
Connect MINI PROG to the Xhorse App via Bluetooth & Wifi.
Xhorse VVDI Mini Prog Function
1. Automatic data backup
2. Support repair of multiple modules
3. Multiple module and device type compatibility
4. Accurately identify the pin connection status
5. Directly read & write data without soldering
6. Additional adapters available for reading MCUs and processors
7. Potential for data corruption is minimized with automatic pin detection
6. Read/Write most 8-pin memory devices via a unique interchangeable header
7. Efficient multi-module reading & writing of EEPROM and ECU data for reflashing
8. Connect to the APP via WiFi or Bluetooth; Connect to your smartphone (Android, IOS)
9. Store memory device bin files (dumps) locally and online with cloud storage
10. Battery-powered and requires no external power source
11. Clear on-screen instructions for ease of use
12. Convenience at hand with Connection Diagram
13. Extended features including hex editing for advanced users
14. Ergonomic design, convenient and comfortable to work with
More functions coming soon
Multi-module Reading & Writing
Convenience at hand with Connection Diagram
IMMO data reading & writing
BMW: BDC/CAS3/CAS3+/CAS4/CAS4+/FEM
BENZ: EIS/EIZ
PORSCHE: BCM
LANDROVER: RFA
VOLVO: CEM/KVM
EEPROM reading & writing
Support reading and writing 24C××, 93C××,95×××, 25××× etc. EEPROM data
Covering 95% of common EEPROM in market
ECU data reading & writing
Support reading & writing DFLASH and PFLASH of BMW, AUDI, VW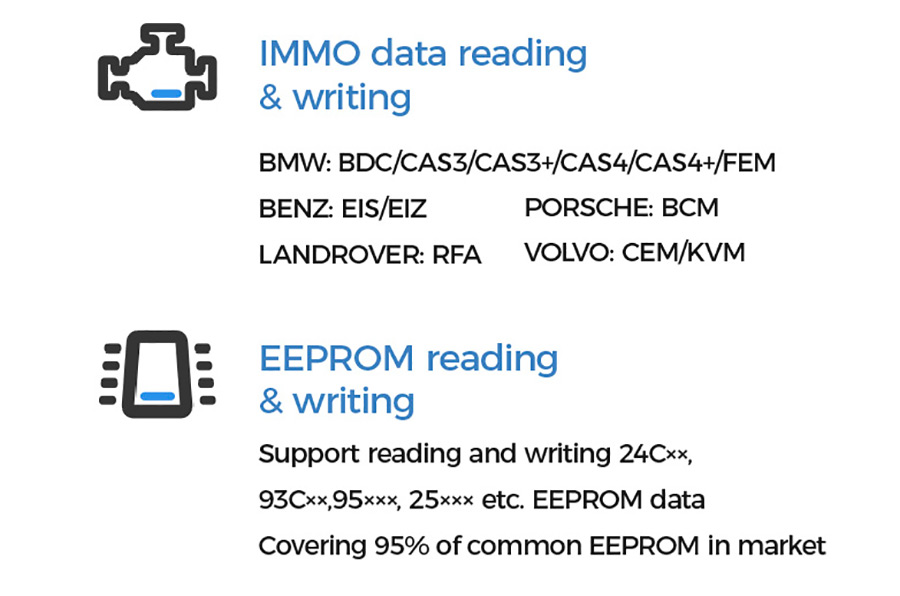 Dashboard data reading & writing
Support Honda, Kia, Hyundai etc.
The support list above is displayed only partially and you can refer to the latest version of MINI PROG for the complete list.
Pin Header Reading Chip Directly, Pioneer in Industry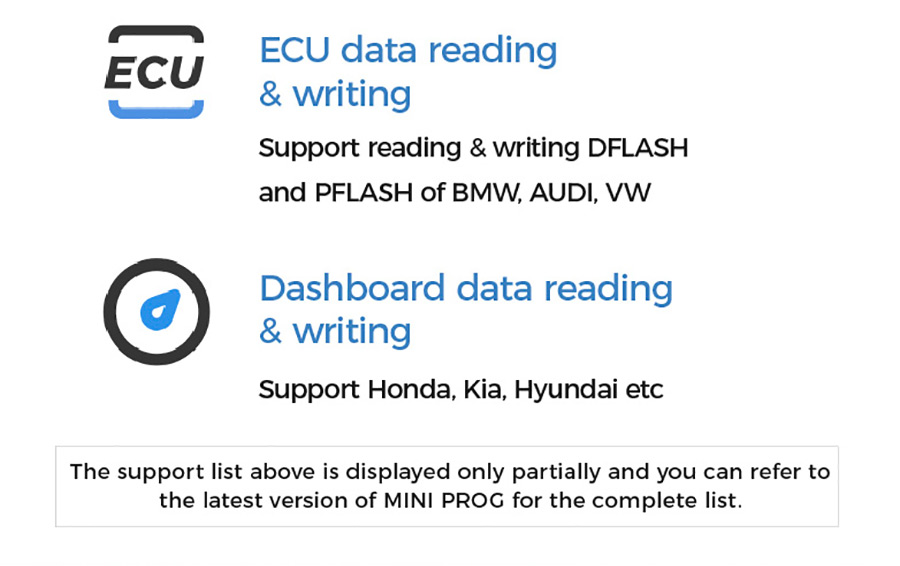 Xhorse VVDI Mini Prog Working Interfaces
You don't need to carry a computer or other devices anymore when working. What you need is only a mobile phone! Download Xhorse application in APP store and find MINI PROG, then start working! We support both IOS and Andriod systems.
The working interfaces are as above. As a common advantage of all Xhorse products, you will be instructed for every step. Each step such as reading or writing can be finished on your phone. What's more, you can directly resort to Xhorse technicians on Xhorse APP if you encounter any problems. We'd be very happy to help!
Xhorse VVDI Mini Prog Appearance
1. Ultra-simple operation that adapts to you.
There is no need to remove the chip when reading. All you need is to press the pin header at the appropriate chip and then you can read and write data on Xhorse APP.
2. Smart Detection
Detect Pin Connection Status with Great Accuracy
Your work, more secure.
MINI PROG supports pin status detection and will give notice when poor contact arises, which makes it easy to operate and avoid data loss and damage.
3. High-tech made simple
APP Control With No Need to Use Computer Anymore
Download Xhorse APP and connect to your MINI PROG via Bluetooth or WiFi. MINI PROG allows you to finish works like data reading, writing and editing directly on your smartphone, providing greater convenience when working outside.
4. Cloud Storage, Safer Than Ever
Data can be stored in Local File as well as Cloud to ensure the safety of data, avoiding data loss caused by misconduct.
5. Artfully Crafted
Sleek Design, Best-in-class Experience
Incredibly Light
Extremely Portable
Extraordinarily Convenient
MINI PROG weighs no more than 0.21kg and it's easy to operate and carry. It offers the perfect blend of form and function, fitting into any work environments.
Specifications
Smart App control
WiFi Bluetooth
Capacity: 2550mAh
Normal working hour: >5H
Standby Time: >5D
Recharging current: 1500mAh
Product Display:
Pin Header 1 supports reading DIP8 chip
Pin Header 2 supports reading SOP8 wide-type package chip
Pin Header 3 supports reading SOP8 standard package chip
Multiple Solder-free Adapters Available(Optional)
BMW Adapters
BMW CAS3/CAS3+, CAS4/CAS4+, FRM, DB15-DB25 adapter(for EWS4 adapter only), D80/35080, ECU interface board kit
PORSCHE IMMO Adapter
Porsche BCM
LANDROVER IMMO Adapter
LANDROVER KVM
VOLVO IMMO Adapters
VOLVO KVM, VOLVO CEM-1, VOLVO CEM-2
MB91F Dashboard Adapter
Honda FIT-H
Honda FIT-L
Hyundai SONATA
KIA K3
KIA K5
ECU Adapter
Remote Renew Adapter
9S12XE cable
MCU cable
DB9 cable
12V+5V power adapter
Pin Header 4
Note:
All adapters and cables above are optional and are not included in standard configuration. You can contact us for purchase if you need them. Or you can check details here>>
Xhorse Solder-Free Adapters and Cables Full Set


Package includes:
1pc x DB15 Cable
1pc x EEPROM Adapter
3pc x Pin Headers
Pin Header 1 supports reading DIP8 chip
Pin Header 2 supports reading SOP8 wide-type package chip
Pin Header 3 supports reading SOP8 standard package chip
---
Xhorse Mini Prog vs Other Programming Device
XHORSE MINI PROG
Other Programming Devices
Connect to the smartphone via Bluetooth and WiFi. To enhance the working efficiency and reduce
communication failures.
Connect to the computer via USB cable. You might easily get a vehicle breakdowndue to the bad contact
caused by the USB cable port.
Support reading chip data without soldering.
Solder to PCB, which may lead to car breakdown or data loss if you are not good at soldering.
No need to dismantle the device or cut the wire. A user-friendly device for
both green hands and experts.
Improper dismantling or cutting may increase the risk of car breakdown.
Support pin detection and report when it detects any problems. Largely avoid data loss.
Unable to check the status of pins and data loss may be easily caused due to solder skips.
Read & write most 8-pin ic chip data via its 3 pin headers directly without adapters.
Adapter needed and you need to spend a lot on buying all types of adapters.
Support multi-module reading & writing, such as EEPROM, ECU, etc. With this device,
you can solve most of problems you encounter at work.
Support reading & writing a few modules only. You need to buy many devices to satisfy the needs of work.
Support data local & cloud storage, avoiding data loss due to misoperation.
Data loss may arise due to a lack of cloud storage.
Built-in battery ensures working without USB cables, saving a lot of trouble when you work outside.
Inconvenient to work outside with USB cable.
Provide professional technical backup. Problems can be resolved on Xhorse App directly by
Xhorse technicians.
You can only seek help from the product dealer.

Contact Us
Email: Sales@CarOBD.de
Skype:
CarOBD.de
Facebook:
https://www.facebook.com/carobd.de/
Whatsapp/Wechat: +86 15926327598
Scan the QRcode,feel free to contact us on your smartphone.

Shipping Warranty:

1) EU Warehouse Shipping: 3-5 working days with No Tax. We have stock in our Czech warehouse for most items. All Items titled "EU Ship" are ship from our Czech warehouse.

2) Yodel Virtual warehouse Shipping: 6-8 days with No Tax for EU customers.

3) Yanwen Express: 8-10 working days. No Tax for European Countries.The tax was pre-paid by us, when package reached, there's no tax no extra fee for customers.

(Due to high custom tax in European Countries,Like Germany, Greece,Romania,Sweden,France,etc, we will use Yanwen express as first option, if you need faster DHL shipment,please contact us ,thank you)

4) DHL Shipping: 3-5 working days. For the items have no stock in UK warehouse, we will ship it by DHL. We will declare a lower price on the invoice to help your clearance.

5) Singpost/HongKong Airmail: 15- 20 working days. For the Price below £100, we will ship it to you buy Airmail.