Produktbeschreibung
XHORSE DOLPHIN XP008 XP-008 MINI mechanical key cutting machine has an all-aluminum body, so its good quality is fully guaranteed. With a 0~45°rotation bench, which is a revolution in design, XP-008 can perfectly cut keys with different titled angles.
Enjoy 4% Discount
XHORSE DOLPHIN XP-008 MINI Mechanical Key Cutting Machine PN: XP0800 Designed for Bit/Pump Keys

Xhorse Dolphin XP008 Introduction:
XHORSE DOLPHIN XP-008 MINI mechanical key cutting machine has an all-aluminum body, so its good quality is fully guaranteed. With a 0~45°rotation bench, which is a revolution in design, XP-008 can perfectly cut keys with different titled angles.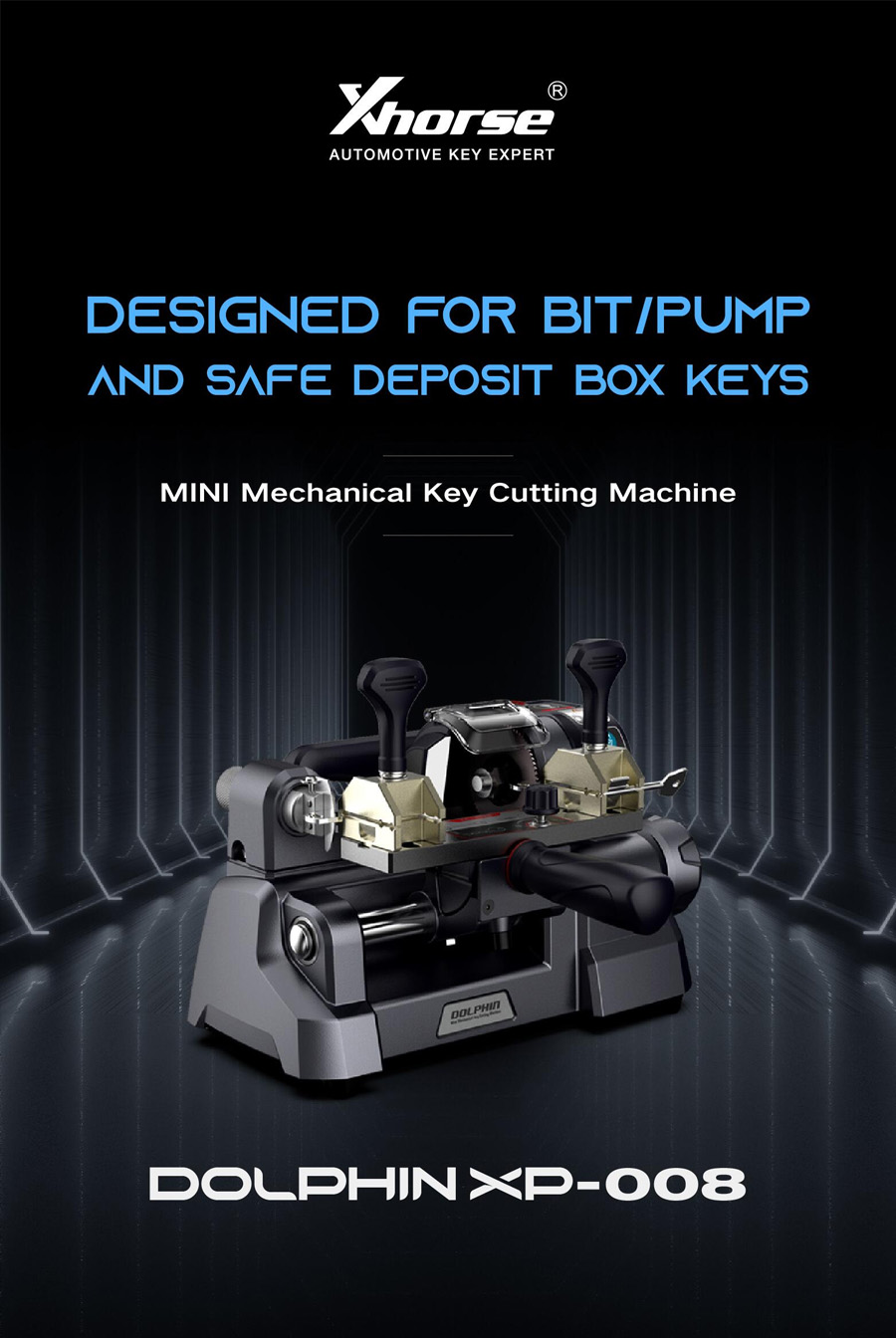 Xhorse Dolphin XP008 Highlights:
All-aluminum body-reliable and durable
Finest details-precision manufacturing
Micro-adjustable knob for higher precision cutting
Advanced rotary clamp enable more possibilities
Top pick for Cutting Bit/Pump and safe deposit box keys
Wide clamp space fit for keys of different length
Dolphin XP-008 Features:
Designed to Meet Diverse Demands
To meet the needs of a wide range of users, DOLPHIN XP-008 is specially designed to duplicate various bit/pump and safe deposit box keys.
Exceptional Design
Ergonomic design brings users an extraordinary working experience. DOLPHIN XP-008 comes with an LED light, helping users work in different scenes with ease.
Users can complete the lateral cutting feed by simply turning the handwheel which can be entirely concealed inside after duplication.
Efficient Cutting Guaranteed
The spindle speed reaching 1050rpm guarantees high efficiency in cutting. More importantly, it helps minimize the wear and tear of the cutter and ensures high-quality cutting results.
Innovative Micro-adjustment Base
The all-direction micro-adjustment base consisting of a key cutting guide and micro-adjustment knob is innovatively developed, making it possible to achieve ultra-high precision duplicating.
Flexible Clamps
The machine features a wide clamp space reaching 115mm, providing a more flexible experience to clamp different keys with no limits to the stem length. XP-008 also offers a wide rotation range so the rotation bench can rotate 0~45° when turning the handle. This makes sure that keys with different titled angles can be perfectly cut.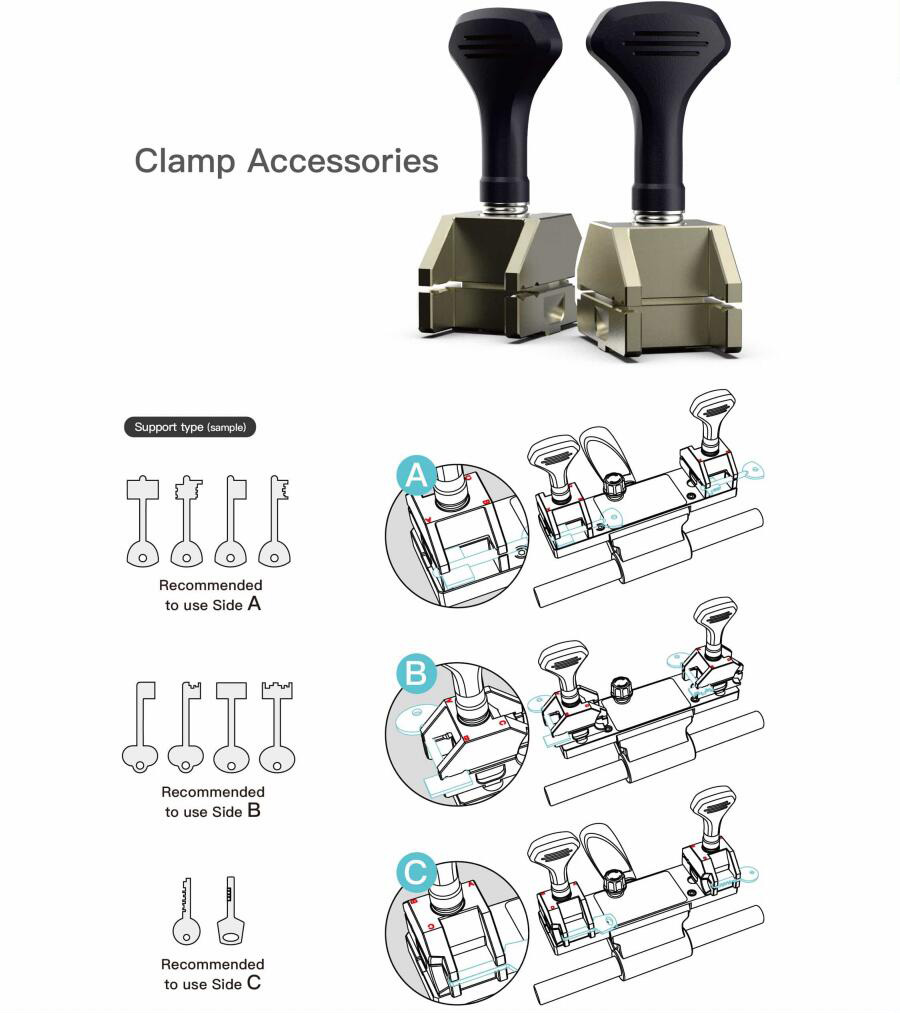 XP008 Cutting Machine Specifications:
Input Frequency: 47-63Hz
Spindle Speed: 1050rpm
Travel of Table: 46mm
Clamp Rotation Angle: 0-45°
Machine Dimensions: 305x185x200mm
Power: 145W
Input Voltage: 12V/DC
Motor Torque: 1.32Nm
Net Weight: 10.8kg
Package Includes:
1pc x Xhorse Dolphin XP-008
1pc x power supply adapter
1pc x power cord
1pc x calibration plate
1pc x brush

Contact Us
Email: Sales@CarOBD.de
Skype:
CarOBD.de
Facebook:
https://www.facebook.com/carobd.de/
Whatsapp: +86 19947637411
Trustpilot:https://www.trustpilot.com/review/www.carobd.de
Scan the QRcode,feel free to contact us on your smartphone.
Shipping Warranty:

1) EU Warehouse Shipping: 3-5 working days with No Tax. We have stock in our Czech warehouse for most items. All Items titled "EU Ship" are ship from our Czech warehouse.

2) Yodel Virtual warehouse Shipping: 6-8 days with No Tax for EU customers.

3) Yanwen Express: 7-10 working days. No Tax for European Countries.The tax was pre-paid by us, when package reached, there's no tax no extra fee for customers.

(Due to high custom tax in European Countries,Like Germany, Greece,Romania,Sweden,France,etc, we will use Yanwen express as first option, if you need faster DHL shipment,please contact us ,thank you)

4) DHL Shipping: 5-10 working days. For the items have no stock in UK warehouse, we will ship it by DHL. We will declare a lower price on the invoice to help your clearance.

5) 4PX Postal Service: 8-12 working days. For the Price below €100, we will ship it to you buy Airmail.