Produktbeschreibung
Milling cutter spindle brushless motor, ball screw drive mechanism, cross roller guide, aluminum alloy body structure, outer casing engineering plastic, 2 in 1 clamp,Mobile APP Android control interface, easy to operate, fast and accurate, easy to carry out work.
Newest 2M2 Magic Tank Automatic Car Key Cutting machine controlled by bluetooth link to the mobile phone only Support Android Without Battery

Top 12 Reasons to Get 2M2 Magic Tank Automatic Key Cutting Machine:
1.You don't

need

to learn it.

Just open the APP and do it.
2.Special models do not need to change the fixture, just follow the APP prompt
3.Cutting for Ford for

Mondeo

(FO21), for Jaguar (TEB1)
round key, only need to clip the key blank once,
fully automatic completion, global patent technology
4.For new users do not know the key, directly against the picture selection
5.The motor is powerful, can reach 12,000 RPM (Revolutions Per Minute),
cutting speed is the fastest in the same competition
6.Double shaft design, avoid frequent replacement of milling cutter and needle
7.The standard fixture is a 2-in-1 fixture, which can be used for cutting the vertical milling blank and the key of the horizontal milling blank.
It is not necessary to change the fixture frequently
8.162T For Volkswagen 4 sides, only need to be clamped once, can be fully automatic four side cutting
9.Toy2 does not need special fixture, directly cut the key, other manufacturers need to install gasket fixture
10.For Volkswagen's hu66 is also directly available in this standard fixture for direct cutting.
At present only our fixture can do, other brands have to change the fixture
or
put a special fixture on it
11. Two Years Warranty
12. Language: English. Spanish and Portuguese
2M2 Magic Tank Automatic Car Key Cutting machineSupported Vehicles:
Europe:
For ALFAROME, For AUDI, For BMW, For CITROEN, For FERRARI, For FIAT, For FORD-EU, For HOLDEN, For IVECO, For JAGUAR,
For LANCIA, For
LAND ROVER
, For LDV, For MAN, For MASERATI, For MERCEDES-BENZ, For MINI, For OPEL, For PEUGEOT,
For PORSCHE, For RENAULT, For ROVER, For SAAB, For SEAT, For SKODA, For VAUXHALL, For VOLKSWAG, For VOLVO
USA:
For BUICK, For CADILLAC, For CHEVROLE, For CHRYSLER, For DODGE, For FORD-USA, For HUMMER, For LINCOLN, For MERCURY
For ACURA, For DAIHATSU, For HONDA, For HYUNDAI, For INFINITI, For KIA, For LEXUS, For MAZDA,
For MITSUBIS, For NISSAN, For SSANGYON, For SUBARU, For SUZUKI, For TOYOTA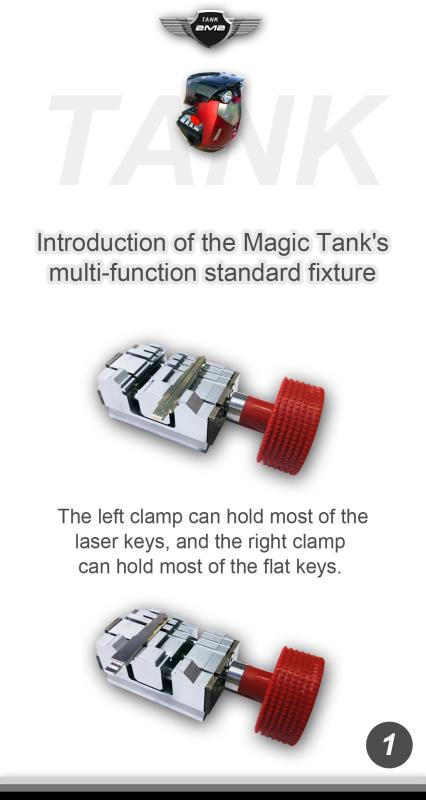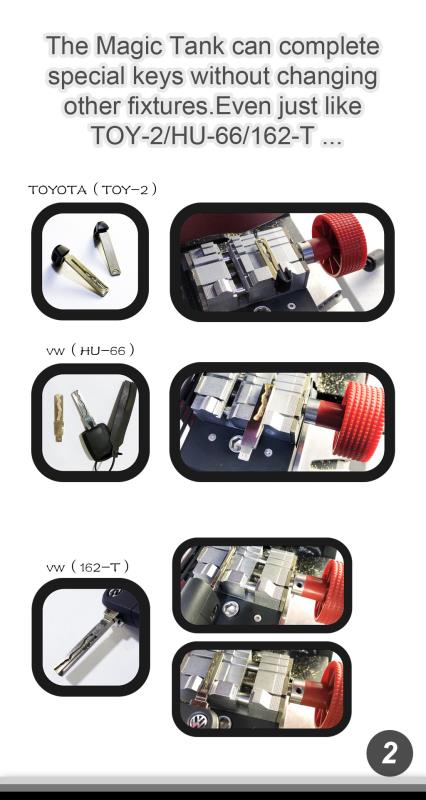 2M2 Magic Tank Automatic Car Key Cutting machine Specifications:
Standard version
Milling spindle
Brushless Motor
Transmission mechanism
Ball screw
Guide rail
Cross roller guide
Body structure
Aluminium alloy
Shell structure
Engineering plastic
Clamp/Fixture
2 in 1 fixture
Additional fixture
HU64 Mercedes-Benz fixture HU64
Control interface
Android App
Weight
10.8KG
Warranty
Two years
Power supply
Adapter
Package includes:
1pc x 2M2 Magic Tank Key Cutting Machine
1pc x Stopper
1pc x Hexagon Driver (2.5)
1pc x Hexagon Driver (8.0)
2pcs x Cutter
4pcs x Probe
1pc x Blue Spanner
1pc x Red Spanner
1pc x Brush
1pc x Power Adapter
How to use 2M2 Tank Key Cutting Machine for the First Time?
For new user

1.Please download App
2. install probe & cutter
3.calibration
2M2 Magic Tank Key Cutting Machine Full Car List

European car key coverage:
Car make
Plain milling
End milling
End mill internal tooth
Circle
Inner milling unilateral
ALFAROME
GT15.D99
SIP22.H8
GT16.D66
AUDI
HU49_246.D77
HU66.H8
HU49_256.D77
WT7_246.D77
WT7_256.D77
BMW
HU50.D00
HU100R.H8
HU50.D11
HU92.H8
HU58.N66
CITROEN
NE73.D66
HU83-L.H7
SX9_A.D44
HU83.H7
SX9_A.D55
SIP22.H8
VA2-1049.H3
VA2.H6
FERRARI
GT16.D66
HU66.H8
FIAT
GT10.D66
SIP22.H8
GT10.D77
VA2-1049.H3
GT15.D99
VA2.H6
SX9_A.D44
SX9_A.D55
FORD
HU101.M10
FO21.T6
HU66.H8
HOLDEN
FO38.D88
GM45.M8
FO40.D88
HU100T12.H8
MIT2.D66
YM27.M10
SZ12.D88
TOY27.D66
YM28.D00
IVECO
GT10.D66
GT10.D77
JAGUAR
FO21.T6
TBE1.T8
LANCIA
GT10.D66
SIP16.M9
GT10.D77
SIP22.H8
GT15.D99
GT18.D99
SX9_A.D44
SX9_B.D55
LANDROVE
NE75.D00
HU92.H8
MAN
HU83-L7.H7
HU83-L8.H8
HU837.H7
HU838.H8
MASERATI
YM308.M8
YM30.M8
MERCEDES-BENZ
HU39.N88
HU41.M10
HU72.D00
HU64.M10
YM15.D00
MINI
HU92.H8
OPEL
GM15.D88
HU100.H8
HU46.D00
HU43.M10
HU87.D00
YM27.M10
NE73.D66
YM28.D00
PEUGEOT
NE72.D66
HU83-L.H7
NE73.D66
HU83.H7
NE78.N55
VA2-1049.H3
SX9_A.D44
VA2.H6
SX9_B.D55
PORSCHE
HU49_246.D77
HU66.H8
HU49_256.D77
RENAULT
NE72.D66
VA2-1049.H3
NE73.D66
VA2-ABCD.H6
VAC102.D66
VA2.H6
VA6-1234.H6
VA6-ABCD.H6
VA6-DECO.DE
ROVER
NE77.D00
HU92.H8
SAAB
B99.D00
YM30.M10
GM40.D00
NSN14.D00
NSN15.D00
SEAT
HU49_246.D77
HU66.H8
HU49_256.D77
SKODA
HU49_246.D77
HU66.H8
HU49_256.D77
SK22.S6
VAUXHALL
GM15.D88
HU100.H8
HU46.D00
HU43.M10
HU87.D00
YM27.M10
NE73.D66
YM28.D00
VOLKSWAG
HU49_246.D77
HU66.H8
HU49_256.D77
YM15.D00
WT7_246.D77
WT7_256.D77
VOLVO
HU56.M8
NE51.D00
NE66-A.N44
NE66-B.N44
NE66-C.N44
2M2 Magic Tank key cutting machine Japanese car key coverage:
Car make
Plain milling
End milling
End mill internal tooth
Circle
Inner milling unilateral
Mark
ACURA
HON58.D88
HON66.N66
NE77.D00
DAIHATSU
DH4R.D88
HONDA
HON58.D88
HON66.N66
HON65.D88
NE77.D00
INFINITI
NSN11.D88
NSN14.D00
LEXUS
TOY40.L88
long
TOY48-8-.L44
short
TOY48(80.L44
short
TOY48.L55
short
MAZDA
FO21.T6
MITSUBIS
CY24.D77
HU56.M8
MIT14.L88
HYN11.D88
TOY40.L88
HYN6.D88
MIT11.D88
MIT8.D88
MIT9.D88
NISSAN
NI02.D00
long
NSN11.D88
short
NSN14.D00
long
NSN15.D00
short
NSN16.D88
short
SUBARU
DAT11.D66
DAT17.N55
HU87.D00
long
NSN11.D88
short
NSN14.D00
long
NSN19.D00
SZ12.D88
SUZUKI
HU87.D00
SZ11.D88
SZ12.D88
TOY43.D00
TOY43.D88
TOYOTA
TOY25.D66
VA2-1049.H3
TOY48.L55
TOY27.D66
VA2.H6
TOY38.D88
TOY40(80.L44
TOY40.L88
TOY41.D88
TOY42.D88
TOY43.D00
TOY43.D88
TOY46.D77
TOY47.D99
2M2 Magic Tank Korean car key coverage:
Car make
Plain milling
End milling
End mill internal tooth
Circle
Inner milling unilateral
Mark
HYUNDAI
HYN10.D88
KIA7.L66
HYN11.D88
TOY40.L88
HYN12.D88
HYN14.D00
HYN14.D88
HYN15.D88
HYN6.D88
HYN7.D88
HYN8.D88
HYN9.D77
KIA
FO32.D00
TOY40.L88
FO34.D00
KIA7.L66
short
HYN14.D88
HYN7.D88
KIA1.D77
KIA2.D77
KIA3.D88
KIA4.D77
MAZ20.D00
SSANGYON
HYN10.D88
SSYI.D77
SSY2.D77
SSY3.D88

Contact Us
Email: Sales@CarOBD.de
Skype:
Sales@CarOBD.de
Facebook:
https://www.facebook.com/carobd.de/
What's APP: +86 15926327598
Scan the QRcode,feel free to contact us on your smartphone.

International Buyers--Please Kindly Note
a)Import duties,taxes and charges are not included in the item price or shipping charges. These charges are the buyer's responsibility

b)Please check with your country's customs office to determin what these additional costs will be prior to bidding/buying

After-sale Service Note:When customer receive the goods, please make sure the product is correct and no damage to the product before sign for the package.
Once receipt completed, any feedback issues for compensation will not be handled
Firstly. You need these tools:
2M2 Magic Tank Auto Key Cutting Machine
Android mobile phone
Blank key blabe
Operating Steps as following:
Power on 2M2 Magic Tank
2. Open Magic Tank App and enable Bluetooth on the top right corner as show in picture.
ps: Scan the QR code here to download Android App:

Bluetooth connected.
Back to homepage and click "Edit a key".
3. Select the key type you need.
Then we select HU66 here.
Click the HU66 page, we go to HU66 key detail info page.
Click "Cut"
Then we enter this page.
We already knew the key code is 13243243, so we click the numbers on the phone to match the code. Then click "Cut".
Attention Please,
if you do not know the key code, you can click "Decode" to get the key code and do the same procedures again.
4. The App will guide you how to put the key. please do it as the prompt.
After you put the key correctly, please click "Confirm" on the App.
Then the 2M2 Magic tank machine will work
6. The Magic tank machine will stop workingwhile we finish cutting. We take out of the key, and put the other side of the key on the clamp and click "confirm" on the App again. The Magic tank will starting cutting again.
After cutting finished, the machine will stop working, then we take out of the key.
7.Try it on lock, it works.
HU66 cut sucessfully.